Representative Office in China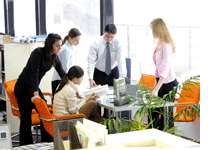 Simply open a Representative Office in China will give you another option to participate on the fast growing Chinese market.

Your own Representative Office is an inexpensive way contrary to an operational engagement to analyse the market potentials first and fit your products to the different cultural requirements in Asia or establish contacts with new customers.
You can train your employees and familiarize them to your product requirements and establish contacts with public authorities and other partners.

Formost in Asia long and lasting business relationship is an competitive advantage and basic for further success. We like to advise you about the setup of your own Rep. Office in China and we inform you either in germany or on site about possible pitfalls. We complete all kinds of establishment and provide your local agent.

Our key support areas:
Support to create the business plan
Representative location
Contract negotiation for office rental
Complete all kind of forms
Recruitment support
Setup local organisation and training
Do not hesitate to call us for free!